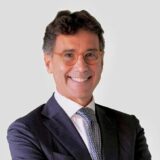 Dear Colleagues,
The new year has just started, bringing along my position as President of our Society. This has followed a three-year membership in the Board allowing me to share ideas and programs with former colleagues and those that will follow within this prestigious role.
Yet, these have also been troubled years both at a professional and social level when everything seemed to be overwhelmed with paramount obstacles, even more so in the field of SIDO's scientific activities, as it was in its very events that we could share gathering, social and friendly moments. Thanks to modern educational platforms, e-learning tools, and the outstanding commitment of all members and organizational/secretarial staff, our scientific programs have anyways reached their objectives and we currently look to the future with great optimism. The time has come for us to return to our past habits.
This year too, the objectives will be those traced in past years thanks to the thorough cooperation and common grounds of all the Board:
In presence Congress activity pivoting on two renown annual scientific events: SIDO International Spring Meeting and SIDO International Congress.
Promoting SIDO across international settings, favoring increasing cultural interaction among International orthodontic societies.
To such purpose, I am proud to highlight that our 2022 Past President Mauro Cozzani has become a Member of the Board of the European Orthodontic Society, which will feature him as the 2028 President; alongside, Letizia Perillo, our 2021 Past President, has successfully submitted the Italian candidacy to organize the 11th WFO Congress in Milan in 2030.
Drawing the attention to the needs of junior members, a reduced membership fee was defined (the reduced fee for <30s has already been approved during the last SIDO Assembly in Florence). Moreover, we commit to making participation fees increasingly affordable for younger members.
The SIDO 2023 program will be based on ordinary regional online events which you will promptly be informed of, as well as on the following:
The International Spring Meeting in Rome, 17-18th March, "Ortho Around Children", will be held at Rome Cavalieri Waldorf Astoria and will be fully dedicated to pediatric orthodontics and all the orthodontic and orofacial functional issues of children. During the full 2-day schedule, including a plenary meeting and 13 Breakout sessions, we will tackle all the topics related to young patients ranging from genetics and functions to the most innovative treatments.
The 54th International Congress in Rome, 12-13-14th October, "Efficiency in Orthodontics: Excellence made Essential", will be held at La Nuvola Congress Center, hosting both meetings of the major Orthodontic Societies and the 11th WIOC (World Implant Orthodontic Conference) chaired by our 2022 Past President Giuliano Maino. The 54th International Congress will pivot on efficiency in orthodontics, offering a modern perspective of simplification while pursuing excellence. Numerous International speakers will be hosted, alongside many Italian ones representing the excellence of the Italian school of orthodontics at a global level. Moreover, as we know, other professional profiles that support us on a daily basis – including dental hygienists and orthodontic technicians – will also take part.
Finally, we could never do without the multiple gathering events that will host entertainment stars, making our get-together opportunities even more delightful and enjoyable.
I wish you and your families a wonderful new year, plentiful of joy and success.
Aldo Giancotti